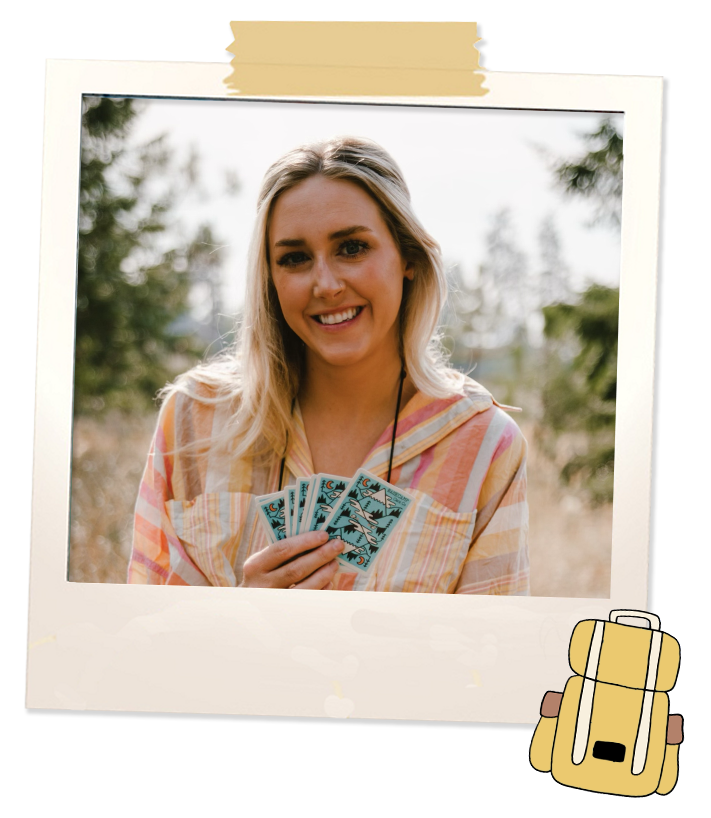 Thanks so much for finding your way to Basecamp Cards.
My name is Maya and I have had so much fun making the cards, and my hope is you have just as much fun playing them!

Years back, in high school, I was on a big backpacking trip in the Rockies. There was snow everywhere. And not a lot to do because of it. And so, Basecamp cards was born over a game of cards in a snowy tent. A simple twist on a standard deck of cards. But one with more intention.

I really hope the cards will bring you some joy, laughter, and connection along your path of life - And help you embrace the wild, deep, and hilarious stories that find you along the way. Because, at the end of the day, those little, shiny moments of connection, they're what truly matter!
Thanks so much again,
Maya :)
Can't remember the rules? Neither can we. Here are our favourites for your next game night!
Our values
Fun first.

We believe in the power of laughter and play. We want people to enjoy the experience and to return to it whenever they need some levity.

Accessible experience.

Our cards are an easy way to bring people together. We know the road brings with it discomfort–we design for ease of use and safety for everyone.

Community focus.

We see our product as a tool for fostering connection, anytime, anywhere. Fill out this copy block a bit more to balance the other columns.

Anchor communication.

Kind communication leads to a kinder world. Our goal is to make communication a little simpler, while focusing on meaningful conversations.

Make the world better.

We're all about growth–as humans, as a community, as a planet. Our product strives to do no harm to earth and builds bridges between those inhabiting it.